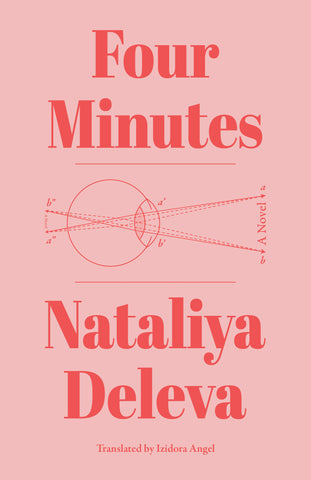 Four Minutes
$9.95
August 17, 2021
novel | pb | 136 pgs.
5.5" x 8.5"
978-1-948830-37-9

Giving voice to people living on the periphery in post-communist Bulgaria, Four Minutes centers around Leah, an orphan who suffered daily horrors growing up, and now struggles to integrate into society as a gay woman. She confronts her trauma by trying to volunteer at the orphanage, and to adopt a young girl—a choice that is frustrated over and over by bureaucracy and the pervasive stigma against gay women.

In addition to Leah's narrative, the novel contains nine other standalone character studies of other frequently ignored voices. These sections are each meant to be read in approximately four minutes, a nod to a social experiment that put forth the hypothesis that it only takes four minutes of looking someone in the eye and listening to them in order to accept and empathize with them.

A meticulously crafted social novel, Four Minutes takes a difficult, uncompromising look at modern life in Eastern Europe.
Translated from the Bulgarian by Izidora Angel
• 
About the Author:
Nataliya Deleva is a Bulgarian-born writer living in London. Four Minutes is her debut novel. Originally published in Bulgaria (Janet 45, 2017), the book was awarded Best Debut Novel and was shortlisted for Novel of the Year (2018), and has since been translated into several languages, including German (eta Verlag, 2018) and Polish (Wydawnictwo EZOP, 2021). Nataliya's short fiction, critique, and essays appeared in Words Without Borders, Fence, Asymptote, Empty Mirror and Granta Bulgaria, among others. Her second novel, Arrival—an English-language original—is forthcoming from The Indigo Press in 2022.
About the Translator:
Izidora Angel is a Bulgarian-born writer, translator, and creative director living in Chicago. She has published essays, critique, and translations for the Chicago Reader, Publishing Perspectives, EuropeNow Journal, Drunken Boat (Anomaly), Banitza, Egoist, and others. She is a founding member of the Third Coast Translators Collective. Her debut translation of Hristo Karastoyanov's The Same Night Awaits Us All (Open Letter, 2018), received an English PEN grant, an ART OMI fellowship, and was shortlisted for Peroto Literary Awards in 2018.
•
Praise for Nataliya Deleva:
"A beautiful, intricately woven, and exciting book."
—Wioletta Greg, author of Swallowing Mercury
"Four Minutes is a novel about people on the margins of society. Different storylines interlace in order to tell one story: about the invisibility. This is a book that grabs you by the throat, a poignant novel."
—Georgi Gospodinov, author of The Physics of Sorrow
"Few are capable of reproducing, without even a slight trace of pretension, the lives of those who have lived in care homes for abandoned children, especially during the post-communist transition period, and their subsequent fates. In fact, generally speaking, each of us is an abandoned child, however those who the author depicts, really are invisible on the social map. Nataliya Deleva removes from their faces all the clichés that we're so used to trashing at them. A difficult, poignant, important, really important book."
—Marin Bodakov, Culture Newspaper
"Four Minutes by Nataliya Deleva is [. . .] a powerful, captivating, fascinating book! A reader would never be the same, after allowing the narrative to pass through them."
—Bella Cholakova, AzCheta.com