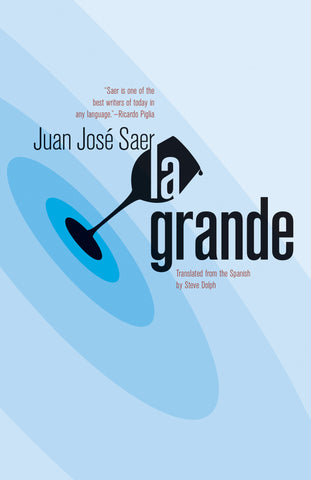 La Grande
$9.99
June 17, 2014
novel | pb | 497 pgs
5.5" x 8.5"
978-1-934824-21-4
"A cerebral explorer of the problems of narrative in the wake of Joyce and Woolf, of Borges, of Rulfo and Arlt, Saer is also a stunning poet of place."
—The Nation

Saer's final novel, La Grande, is the grand culmination of his life's work, bringing together themes and characters explored throughout his career, yet presenting them in a way that is beautifully unique, and a wonderful entry-point to his literary world. 
Moving between past and present, La Grande centers around two related stories: that of Gutiérrez, his sudden departure from Argentina 30 years before, and his equally mysterious return; and that of "precisionism," a literary movement founded by a rather dangerous fraud. Dozens of characters populate these storylines, including Nula, the wine salesman, ladies' man, and part-time philosopher; Lucía, the woman he's lusted after for years; and Tomatis, a journalist whom Saer fans have encountered many times before. 
Written in Saer's trademark style, this lyrically gorgeous book—which touches on politics, artistic beliefs, illicit love affairs, and everything else that makes up life—ends with one of the greatest lines in all of literature: "With the rain came the fall, and with the fall, the time of the wine." (Read an Excerpt)
Translated from the Spanish by Steve Dolph
•
About the Author: Juan José Saer (1937–2005), born in Santa Fé, Argentina, was the leading Argentinian writer of the post-Borges generation. In 1968, he moved to Paris and taught literature at the University of Rennes. The author of numerous novels and short-story collections (including The Sixty-Five Years of Washington, Scars, The One Before, and The Clouds, all published by or forthcoming from Open Letter), Saer was awarded Spain's prestigious Nadal Prize in 1987 for The Event.
• 
"Juan José Saer must be added to the list of the best South American writers." 
—Le Monde
"To say that Juan José Saer is the best Argentinian writer of today is to undervalue his work. It would be better to say that Saer is one of the best writers of today in any language."
—Ricardo Piglia