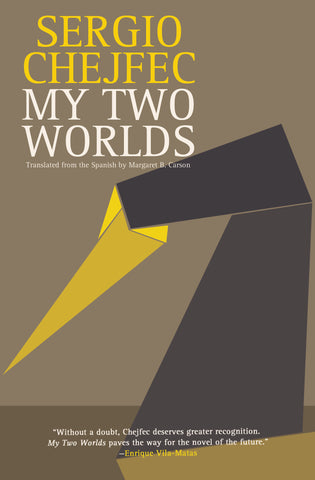 My Two Worlds
$9.99
August 16, 2011
novel | pb | 120 pgs
5.5" x 8.5"
978-1-934824-28-3
"Chejfec's latest work should be treated as a significant event." 
—Publishers Weekly
Approaching his fiftieth birthday, the narrator in My Two Worlds is wandering in an unfamiliar Brazilian city, in search of a park. A walker by inclination and habit, he has decided to explore the city after attending a literary conference—he was invited following the publication of his most recent novel, although, as he has been informed via anonymous e-mail, the novel is not receiving good reviews. Initially thwarted by his inability to transpose the two-dimensional information of the map onto the impassable roads and dead-ends of the three-dimensional city, once he finds the park the narrator begins to see his own thoughts, reflections, and memories mirrored in the landscape of the park and its inhabitants.
Chejfec's My Two Worlds, an extraordinary meditation on experience, writing, and space, is at once descriptively inventive and preternaturally familiar, a novel that challenges the limitations of the genre.
Translated from the Spanish by Margaret B. Carson
Introduction by Enrique Vila-Matas
• 
About the Author: Sergio Chejfec, originally from Argentina, has published numerous works of fiction, poetry, and essays. Among his grants and prizes, he has received fellowships from the Civitella Ranieri Foundation in 2007 and the John Simon Guggenheim Foundation in 2000. His books have been translated into French, German, and Portuguese. He teaches in the Creative Writing in Spanish Program at NYU, and My Two Worlds is his first novel to be translated into English.
• 
"Without a doubt, Chejfec deserves greater recognition. My Two Worldspaves the way for the novel of the future." 
—Enrique Vila-Matas
Longlisted for 2013 International IMPAC Dublin Literary Award