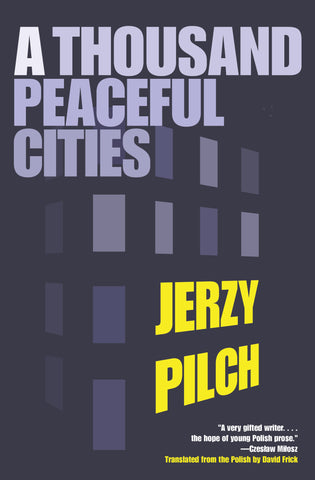 A Thousand Peaceful Cities
$9.99
by Jerzy Pilch
July 4, 2010
novel | pb | 148 pgs
5.5" x 8.5"
978-1-934824-27-6
"If laughter actually is the best medicine, fortunate readers of this wonderful novel will surely enjoy perfect health for the rest of their days."
—Kirkus Reviews
A comic gem, Jerzy Pilch's A Thousand Peaceful Citiestakes place in 1963, in the latter days of the Polish post-Stalinist "thaw." The narrator, Jerzyk ("little Jerzy"), is a teenager who is keenly interested in his father, a retired postal administrator, and his father's closest friend, Mr. Traba, a failed Lutheran clergyman, alcoholic, and would-be Polish insurrectionist. One drunken afternoon, Mr. Traba and the narrator's father decide to take charge of their lives and do one final good turn for humanity: travel to distant Warsaw and assassinate the de facto Polish head of state, First Secretary of the Polish United Workers' Party, Wladyslaw Gomulka—assassinating Mao Tse-tung, after all, would be impractical. And they decide to involve Jerzyk in their scheme...
Translated from the Polish by David Frick
• 
About the Author: Jerzy Pilch is one of Poland's most important contemporary writers and journalists. In addition to his long-running satirical newspaper column, Pilch has published several novels, and has been nominated for Poland's prestigious NIKE Literary Award four times; he finally won the Award in 2001 for The Mighty Angel. His novels have been translated into numerous languages.
•
"With his latest, Pilch masterfully negotiates sentiment with a clear-eyed vision of his autobiographical narrator's shortcomings and disappointments, suggesting a Dubliners set in Krakow." 
—Publishers Weekly (starred)
"Pilch's antic sensibility confirms that he is the compatriot of Witold Gombrowicz, the Polish maestro of absurdist pranks. But readers with a taste for the fermented Irish blarney of Flann O'Brien, Samuel Beckett, and John Kennedy Toole might also savor Pilch." 
—B&N Review