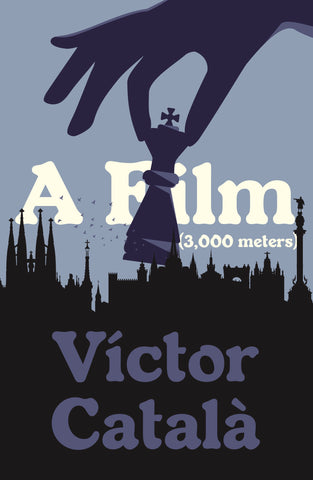 A Film
$9.95
March 29, 2022 
novel | pb | 448 pgs.
5.5" x 8.5"
978-1-948830-44-7
  
Nonat Ventura, an orphan raised by nuns in Girona, Spain, embarks on a compulsive quest to uncover his origins, with the hope that he is destined for a higher social status. His search leads him from a successful apprenticeship, to factory work in Barcelona, and finally to a band of thieves that seeks to get rich by any means necessary. Nonat's central story frames a series of stories, a kaleidoscopic effect within a One Thousand and One Nights narrative: fictional tropes of orphans, spinsters, maids seduced by masters, crooks, go-getting provincials combined with realist depictions of factory workers, haberdashers, street-porters, corrupt politicians, and Belle Époque high society.

Català relishes describing the male proletarian ambience of small factories and capturing the fraught atmosphere, carnival of disguises, and class tensions on the city's streets, in its households, Liceu opera house, and theaters. A rebellious artistic project that was set to shock and discomfort readers and critics, Català contests the prevailing ideas on space, class, language, art, and gender.
Translated from the Catalan by Peter Bush 
•

About the Author:
Victor Català was the pseudonym of the novelist and short story writer, Caterina Albert (1869-1966). Her early works—especially Solitude—were representative of the Modernist movement in Spain and reflected her interest in writing about rural settings. As trends changed, she incorporated more elements of cinema and civic concern into her writings, most notably in A Film, first published in Catalan 1926.
Peter Bush is an award-winning translator who lives in Barcelona. His translations include Juan Goytisolo's
Níjar Country
, Teresa Solana's
A Shortcut to Paradise
, Alain Badiou's
In Praise of Love
, Josep Pla's
The Gray Notebook
, and several collections by Quim Monzó, among many others.
• 
Praise for Victor Català:
"The novel's folk tales, with their scent of cruelty, linger in the mind, as do the icy, unforgiving vistas below . . . It's this sense of place that gives Solitude its power."
—New York Times

"The seamless translation faithfully illuminates the lucid, brilliant prose of this Catalan author."
—Publishers Weekly on Solitude

"I swallowed the words as if swallowing the mighty, varied, inextinguishable sound of a solo like Duke Ellington's; and on every page I was tempted to stop, to laugh heartily with all my throat and clap. I had never read anything in Catalan that made me so euphoric."
—Maria Bohigas

"From a perfectly assumed cultural position, with a clear literary consciousness and challenging boldness (the dignification of popular cultural consumption), Víctor Català offers us a mature work, which in his time could not be appreciated."
—Lluís Busquets, Diari de Girona